My Cute Memory for iPhone
My Cute Memory is Jaludo's second iOS game launch. It's a very cute memory game designed for all ages. Flip the cards to find pairs of cute pets. My cute memory is not only engages you, it also improves your memory and concentration skills.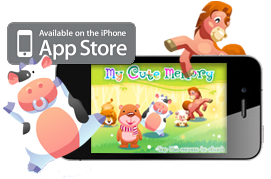 After completing a level you unlock a cute animal which you can then post on your Facebook. My Cute Memory contains 3 free levels; each consisting of 3 rounds. 4 more levels are available when you buy it (note: only on iOS).
Try to complete all the levels and collect the full set of cute animals!
Click here to preview the game at the iTunes Store, or click here to play the Flash version thru one of the Jaludo portals.