Hollywood Hall of Fame 8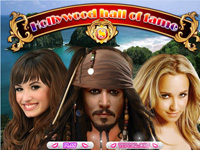 This is the eighth part of the Hollywood series. In this part you can give Demi Lovato, Johnny Depp and Hayden Panettiere  a beautiful makeover. We all know these three beautiful people: they are  famous on TV and in the cinema. Give them a glamour makeover the way you want. You can choose their hair style and color, the color of their eyes, their makeup, clothes and a lot more. After you have chosen your background, you can watch all the models you have created in a little clip. Enjoy yourself!
Click here to see how this game looks on our portal.